Grimes has been my obsession for well over a year now, and post-grunge child that I am, it is essential that i did a piece on her. Between her beyond breath taking music, beautiful art, sick sense of style, and on top of this a fascinating personality, Claire Boucher is a person to be admired; to say the least.
Grimes is a Montreal based Artist who's influences include Purity Ring, K-Pop band 2NE1, Marylin Manson, Mariah Carey and a 12th century crazy ass mystic Hildegard von Bingen. She has created some of the most emotionally evoking music I have ever heard, sounding something remeiscent of a wired Cocteau twins meets Bjork circa forever, however she retains her own unique revelance to our time, making her music distinctive and enduring.
Ex-Goth Claire Boucher has devloped a very post-grunge style, garbing herself in black, hooded cameoflage jackets, oversized 2-Pac T-shirts and oversized goth boots. Think Doc Martens, cameoflage anything; T-shirts, jackets, hats- as long a they are sick looking go for it. Stick to Skinny jeans and shorts- Black, wear any rap/metal/goth/punk, black band t-shirt you want- in the largest size you can find obviously. Watching the Oblvion video showcases how diverse her style can be- I want that gold and black hoodie, psychedelic t-shirt and her new line of self designed Pussy rings; must have for any Grimes fan.
Watch this; already cannonized as one of my favourite songs of all time- Oblivion.
I think EVERYONE needs to hear her music, she's just too good not to share and know, so please listen and spread the joy which is Grimes (also my female face twin.)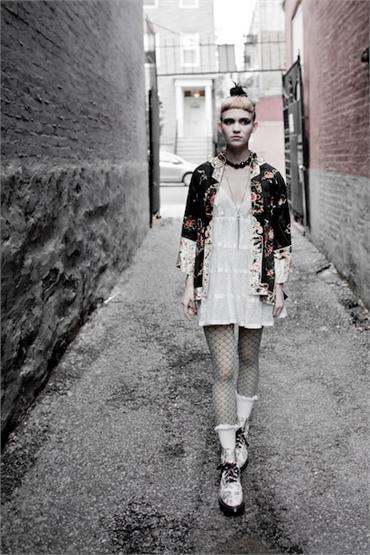 See you on a dark night xoxo